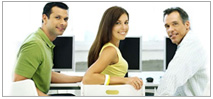 Our company contracting offices are only located in countries with legal protection for provided software and services (Switzerland, UK, Singapore). This availability of legal protection is a benefit we offer to our clients.

Our privacy and contract policy guarantees data, software privacy and the fulfilment of the contract. We have developed global information practices and measures designed to assure Data and Customer Information accessed in connection with provided services are appropriately protected. The measures include policies, procedures, and technical elements relating to data access controls.

The contract policy contains elements like refund of money in case of providing not satisfying services and payment only by successful completed milestones / projects.